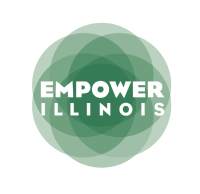 In 2017, bipartisan lawmakers passed the Invest in Kids Act. This historic law - the first of it's kind in Illinois - transforms lives by providing up to $100 million in scholarships for children from low-income and working class families in Illinois, while also providing landmark funding for public schools. Empower Illinois' scholarships provide parents with a way to help their children find success!
Scholarships are funded through private donations to scholarship granting organizations (SGOs), like Empower Illinois, who then administer the application and scholarship process. Donations to the scholarship program are eligible for a 75% State Tax Credit up to $1 million. This credit may be carried forward for up to 5 years.
Trinity Lutheran School is a partner with Empower Illinois and students attending can apply for a scholarship to attend!
I would like to make a donation to receive a 75% State Tax Credit

Visit https://empowerillinois.org/donate/ to learn about how to make your donation today! Donations are currently helping fund 2022-2023 scholarships.

I would like to apply for a scholarship for my children to attend Trinity!

Visit https://empowerillinois.org/apply/ to learn about whether you qualify for a scholarship, when the application process opens for each school year and how to apply.
Learn more about Empower Illinois on their website empowerillinois.org.